Most Universities in the UK have their own RAG Society. It stands for 'Raise and Give' and it is a society of students, who organise various events to raise money for charities of their choice.
For decades, RAG Societies at universities have held huge events and fundraisers to raise money for particular charities. At Leeds College of Art, if students wanted to participate in a RAG event, they would have to join the University of Leeds RAG Society (which is a really successful RAG Society, check out their website
here
).
Now, students at
Leeds College of Art
have taken the initiative to start their very own Leeds College of Art RAG Society. We may only be a small art college, compared to the bigger universities, but we still have passionate and talented students who want to use their skills to organise RAG events and hold our very own fundraisers and activites. Students at LCAD have been working hard to organise and hold the FIRST EVER Leeds College of Art RAG week.
Please support the
first ever
official Leeds College of Art RAG Week: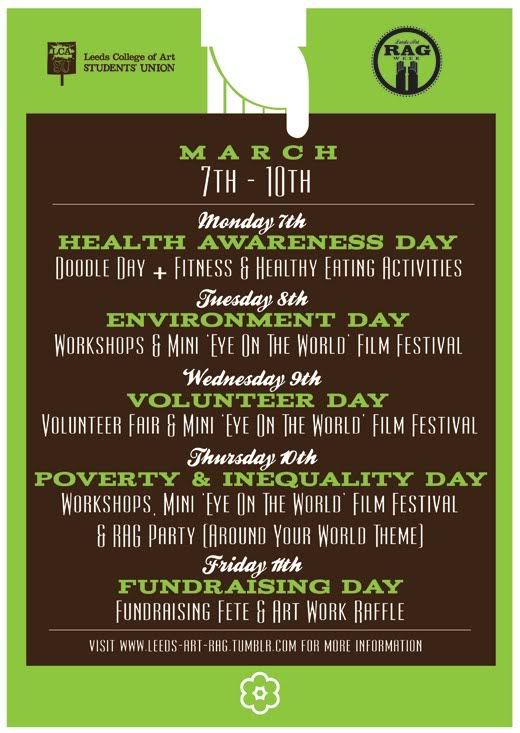 It is a going to be a fun and lively week next week! Please get involved with the activities!
On
Monday 7th March
at
10AM
we are having a Doodle Day! Donate 20p and contribute a doodle to our big doodle board. The theme is 'Around Your World', what will you draw?
On
Tuesday 8th March
, at
10AM
a handful of local and national environmental organisations will be in the college cafe to explain their current campaigns and the causes they work on behalf of. Come along to chat to people and get insipred to help your world. At
2.30PM
there will be a creative workshop where we will be using upcycled paper to make into origami. Come along to get involved!
On
Wednesday 9th March
at
10AM
, The Studio Theatre at Blenheim Walk will be home to around 15 Volunteer based organisations ready to offer you opportunities to make a difference. From local to international groups, this is a chance to do something constructive over the summer or give something back to the community over weekends. Come along to find out more information!
On
Thursday 10th March
at
10AM
there will be local and national organisations talking about Poverty & Inequality. Come along to find out what you can do to help, and for more information. At
12PM
we are having a creative quilt making workshop. Come along to the college cafe where you can make your very own personalised square patch for our patchwork quilt, which will then be exhibited at Leeds College of Art. At
7PM
there will be a party in WALKABOUT, tickets are £3.
On
Friday 11th March
there will be a whole day dedicated to fundraising. From
12PM
there will be a whole range of creative workshops to get involved with. Come along to the college cafe to have a look around to see what students are getting up to.
We are also holding a raffle thoughout the week. The prizes will be original pieces of artwork done by Leeds Art College tutors and students. Raffle tickets are only £1 and can be bought from the Student Union or from ticket sellers. The draw for this raffle will take place at
10.30AM
on Friday, in the college cafeteria.
All proceeds from the week will be going to charity
For more information please see the
Leeds Art RAG website
or join the
facebook group