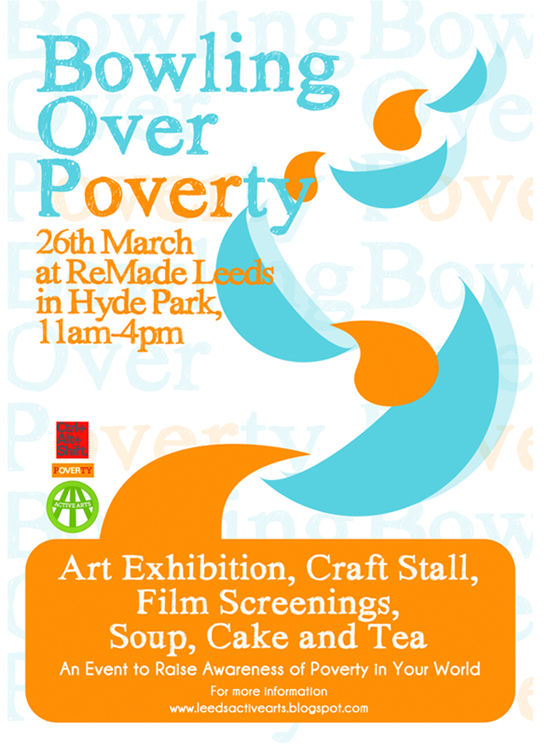 Hello all, please join us for our upcoming event 'Bowling Over Poverty' which is going to be a fun day of art, crafts and food!
It is going to be held on
SATURDAY 26TH MARCH 2011
at Remade in Hyde Park, Leeds. (Back Kensington Terrace) If you are unsure whereabouts that is, check the map below:
View Larger Map
At the event will be craft stalls selling handmade jewellery and keyrings, posters and prints. Homemade cake and soup will be for sale, as well as other artsy things!
The new edition of the official Leeds Active Arts zine will also be for sale! It will be a full colour illustrated zine featuring illustrated recipes of two of our favourite things - cake and soup!
There will also be a fun photobooth event, film screenings from
Ctrl Alt Shift
, art exhibitions and of course, vintage clothing for sale from
Remade Leeds
.
A percentage of all sales made from this event will be donated to charity.
Come along from 11am to 4pm and check it out!!
CALL FOR SUBMISSIONS
:
If you are a creative type with some goods to sell, we are calling for submissions for this event! We are looking for items for the craft stall, including jewellery, accessories, handmade cards, prints and anything else! Please feel free to contact us and have your work showcased. Please leave a comment here or email us at
leedsactivearts@gmail.com
.