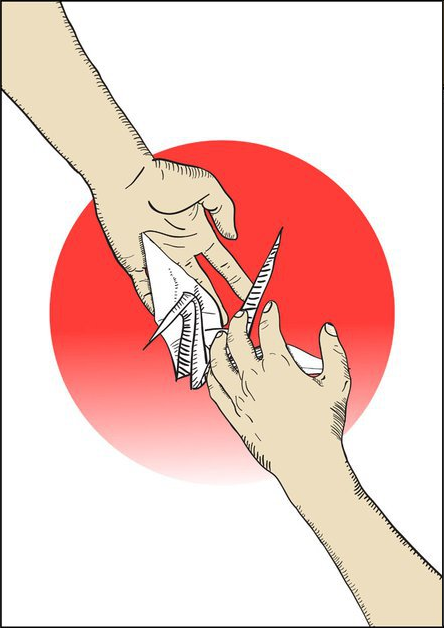 The Rising Sun - Aid for Japan
The catastrophic earthquake and resulting tsunami that struck Japan on March 11th 2011 have caused widespread destruction and suffering. We have an affinity with Japanese culture, and have been very moved by the event. Consequently we are organising a non-profit, charitable event to raise funds to provide for the ongoing crisis currently affecting Japan.
Presented by

SUBCONSCIOUS

ARTS and LEEDS ACTIVE ARTS, the event will held at Left Bank Leeds, Cardigan Road, Leeds, LS6 1LJ on Sunday 15th May 2011 The all day event will start at 12:00PM
The proceeds from the event will be spread equally between the
British Red Cross Japan Tsunami appeal
and
Shelter Box
; a Cornwall-based international disaster relief charity. The donation to Shelter Box will assist people in need around the world, not only those in Japan...so we still feel this is a worthwhile cause.
In addition, we have confirmation that
all funds raised will be matched pound for pound by HSBC.
With the addition of gift aid at 25% this would mean for every pound raised, an extra £2.50 will go to charity!! (Thank you to HSBC for this generous donation)
We currently have over £600 worth of donated items ranging from jewellery, canvases, prints, restaurants & cafe vouchers, pieces from vintage stores, beauty products, posters and much, much more. These items will be auctioned at the event. (Thank you to everyone who has donated items so far!)
At present, we can confirm the following acts:
Vid Warren (Instrumental Beatboxer) -

From instrumental-beatboxing to cool dark grooves, Vid Warren brings you some of the freshest performance out there, bass heavy sounds that you wouldn't believe a human-mouth could make. You may have seen Vid Warren on festival stages including Glade, WOMAD, The Secret Garden Party, The Big Chill, Lovebox and Electric Picnic.

The Sick Men of Europe -

A 3 piece, gin drinking, basement dwelling outfit from Leeds. Inspired by the lo-fi sounds of early blues and jazz, garage punk noises, and old fashioned rock and roll.

Sumie - An authentic Japanese koto player whom performs wearing the traditional kimono attire. Expect to hear soothing and beautiful melodies.

ALSO:
Me & My Friends (TBC)
Voices of the Day (TBC)
Soul Motown Choir (TBC)
Some other things we have planned for the day and night:
A series of art and design based workshops and stalls from Leeds ActiveARTS:
Hair Braiding
Crafts and sewing workshop
Photobooth
Handmade wares and goodies stall
Cake and sweet stall
Face painting stall
& many more to come! Watch this space
Workshop from Square Pusher - A Leeds-Based origami group
War Kites

Bar with local breweries and catering from Sweet Creations
Performances from SureFire (TBC)
Sara - Circus Performers (TBC)
B-boy group (TBC)
Martial arts demonstrations (TBC)


THE RISING SUN - This all day and night event will be a celebration of art, music and creativity. It is going to be fun, buzzing and exciting! We want to create a lively, busy atmosphere where there's plenty to do, see, make, talk about and enjoy!
CALL FOR SUBMISSIONS:
We are still in the midst of planning this event and are looking for:
musicians, artists, performers and people from the community!
If you can or know anybody who can get involved and help to make this event a huge success, please get in touch. CAN YOU HELP IN ANY WAY, SHAPE OR FORM?? Please leave a comment or e-mail us at
leedsactivearts@gmail.com
PLEASE
CLICK HERE
TO GO TO THE FACEBOOK EVENT PAGE - To keep up to date with what's happening regarding to event. Invite your friends and spread the word!
Let us collaborate and use our skills to club together and help raise money and awareness to relieve the ongoing disasters and suffering happening in Japan and the rest of the world. WE ALL NEED A LITTLE BIT OF HELP, LET'S DO SOMETHING TO HELP!!